Newsletters
Quakers Hill Paramedic Response Point (PRP)
Wed September 19, 2018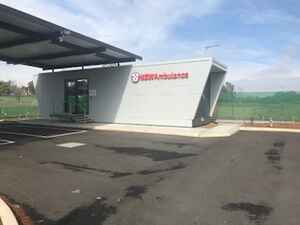 Many of you may have noticed this new building on your travels through Quakers Hill, and wondered about it – is it a small ambulance station? What is its purpose?
This is an innovative new operational model called the Paramedic Response Point (PRP); in effect, a standby station supporting the network of NSW Ambulance superstations, as part of the Sydney Ambulance Metropolitan Infrastructure Strategy's (SAMIS) $150 million program transforming the way NSW Ambulance conducts its core business. This is one of many popping up at strategic locations throughout Sydney, severing as smaller, standby stations from which paramedics can also respond.
Modern new superstations have already been completed at Bankstown, Blacktown, Kogarah, Penrith, Northmead and Artarmon; and construction is underway at Carringbah and Haberfield. PRP's networked to superstations have been completed at Mortdale, and are under construction at Bonnyrigg, Wiley Park as well as Quakers Hill.
A pivotal part of the Paramedic Response Network, the Quakers Hill PRP will be one of two PRPs supporting paramedics attached to the Blacktown superstation.
NSW Ambulance Commissioner Dominic Morgan says that the PRPs is part of the NSW Ambulance's commitment to operate in a more flexible and responsive way to patient demand; ultimately aimed at delivering better outcomes in emergency situations.