Newsletters
Winners are Grinners!
Thu August 02, 2018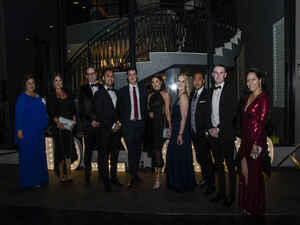 What a night of nights it was on Saturday evening July 28, at the 2018 Laing+Simmons Annual Awards held at Le Montage, everyone was looking very glamourous in line with the Laing+Simmons "Goes to Hollywood" theme. Dazzling gowns, debonair men in tuxedos, colourful cocktails, champagne flowing…it had all the makings of a first-class gala event, and indeed it was.
We are excited to report that Laing+Simmons – Quakers Hill office won Office of the Year! This is a testament to the dedication, professionalism, and sheer hard work of the entire team. Well done all, keep up the great work!
It didn't stop there; our team and individual members took home a swag of additional awards.
Our office was awarded:
Third – Business Growth
Fifth – Income Producing
Team Bronze – Volume of Transactions
Team Bronze – Property Management Growth
Individual awards went to:
Principal Lyndell Pilkington: Silver for Property Management Growth, and Bronze for Property Management Excellence in Service.
Agent Nathan Chapman: Number 3 Salesperson of the year.
Agent Kent Pilkington: Number 7 Salesperson of the year.
Ejay De Guzman: Bronze for Sales Support.
A wonderful evening was had by all who attended, with lots of laughter, dancing, new friendships made, and existing ones strengthened.
We look forward to continuing to deliver industry-best service to Quakers Hill, Schofields, and surrounds…this is an amazing community to work with and we are passionate about the benefits this region offers its residents and investors.